by
Race, economic status and especially partisanship help define what women think and what women want…
Sharp differences of opinion on gender, sexism and harassment separate American women from each other, according to a new HuffPost/Yahoo/CARE survey. Even though women share some of the same concerns, they're far from a unified bloc.
Nationwide, the majority of women are concerned about pay inequality and see gender bias in politics. Most are enthusiastic about seeing more women in positions of power in the United States and think American women should play a role in reducing gender-based discrimination elsewhere in the world. About half have faced inappropriate sexual advances.
About three-quarters of women consider the pay gap between men and women to be a problem. But there's a huge partisan divide in terms of how women weigh that problem. Where 63 percent of Democrats say it's a serious one, just 26 percent of Republicans believe the same. Similarly, 83 percent of women, including a majority in both parties, say sexual harassment is a problem ― but 81 percent of Democrats, compared to 47 percent of Republicans, consider it serious.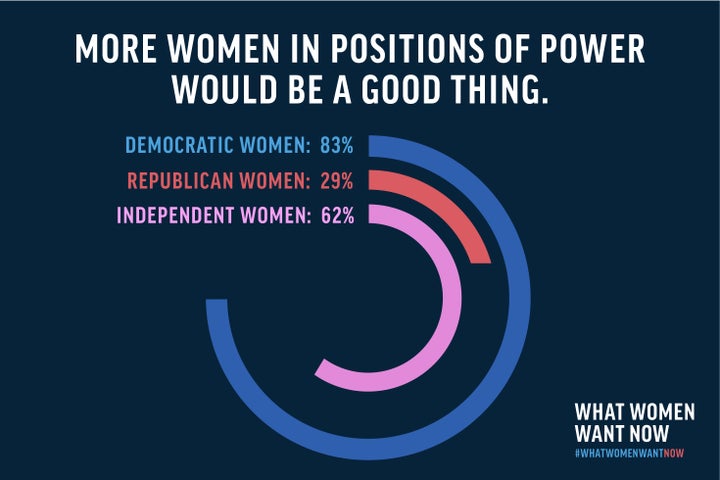 Unsurprisingly, the divides between Democratic and Republican women are particularly stark on questions of power. Eighty-three percent of female Democrats and 62 percent of female independents think it would be a good thing to have more women in power, a preference shared by just 29 percent of female Republicans, who are largely neutral toward the idea. Seven in 10 female Democrats and 52 percent of female independents see at least a good amount of bias against women in power, compared to about a quarter of Republicans.
There are also partisan differences in beliefs about sexism. Democratic women are slightly more than twice as likely as Republican women to believe that men today generally have things easier. They're about three times likelier to say efforts to ensure equal rights for women in this country have yet to go far enough. Republican women, on the other hand, are less likely to want to work specifically for another woman, or to actively want more female leaders in their own workplace.