At 35 years old, Melbourne-based Doug Wilson is a supersonic running champ…
having scored a Guinness World Record for running a marathon on each continent in under a week. He also turned his life around with kundalini yoga after mega brain surgery four years ago. Catch him teaching a kundalini yoga retreat with the amazing Patwant Rhodes in Greece in October, but in the meantime, meet the inspirational Doug…
How did you get into kundalini yoga, Doug?
In August 2013 I was diagnosed with a large brain tumour and underwent a life threatening 13-hour operation. I was lucky to survive and suffered extensive cranial nerve damage, meningitis and other complications like losing my hearing and balance functionalities on the right-hand side of my body. I was told by doctors: 'Expect to never be the same again,' but I didn't want to believe that and was looking for anything to help restore my health. Six months into my recovery, I randomly signed up to a yoga retreat, which happened to be kundalini. I had no idea. I'd always assumed yoga was a fancy word for stretching.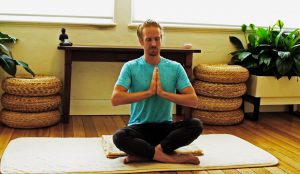 How has it changed your life?
Unimaginably. During the retreat I had such incredible life-changing experiences that when I returned to London I quit my 8-year-long career in investment banking. I began a daily practice by teaching myself kriyas on the kitchen floor of my small London flat. Within weeks, the noticeable changes to my body, mind and spirit were astounding. My recovery from illness was shortened by the regular practice of kundalini yoga and in just over 12 months from leaving hospital in a wheelchair, I became the first person to complete a competitive marathon on each continent (Antarctica, South America, North America, Europe, Africa, Asia, Australia) in under seven days. An accomplishment recognised by the Guinness World Records as Fastest Time To Complete A Marathon On Each Continent (Male) – 6 days 18 hours
I saw such benefit in the practice I went on to train to be a teacher and am now working with people in drug rehabilitation.
What does your yoga practice look like now?
3:30am sadhana: 3.5 hours of warm-up exercises, kriyas, deep relaxation and meditations
Pre-lunch: another 30 mins of light exercises and 2×11 min meditations
Before bed: another hour split between a kriya and meditation
What's your favourite kriya?
At the moment I am working on the Kriya For Conquering Sleep and really enjoying it. I've often struggled with sleeping through the night and have found after only a week of this kriya I've had a few uninterrupted nights of really decent sleep. I'm excited to stick with it and see how much more effective it will be.

What's been the most powerful ky practice you've ever done?
40 days of Long Ek Ong Kar. On a physical level it taught me how the body adapts to pain and discomfort, I used to struggle to sit in easy pose for more than a minute or two. I built up to 37 minutes while unravelling multifaceted layers of astounding sensory information and self discovery. The sensitivity in my body heightened with an ability to feel the varying qualities of Naad currents at their relative points on the body.
Fave quote? "Be the change you wish to see in the world"
You in a Tweet… Lives life intensely and never gives up.
Book? Scott Jurek – Eat & Run
Place? Anywhere in Chile
What's on your altar? I don't have an altar but there's a there's a picture of Guru Ram Das and a card that says "Face the Truth" on my work desk.
Teacher? My first teacher, Patwant.
Musician? Jai Jagdeesh
Breakfast? A green smoothie and Planticious buckwheat pancakes with coconut yogurt and maple syrup